The Ultimate Review of the Rechargeable AirsPops ONE USE 12ml Mesh Disposable Vape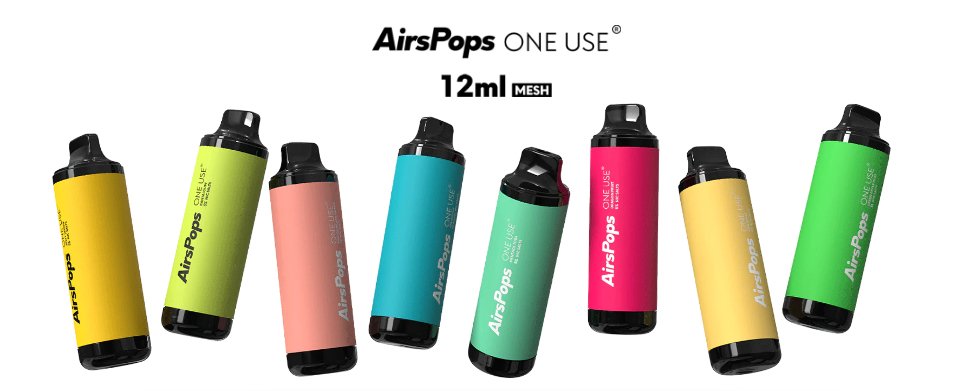 The vaping world is constantly evolving, with new and innovative products hitting the market regularly. One such product that has taken the vaping community by storm is the AirsPops ONE USE 12ml Mesh Disposable Vape. This device is not only sleek and compact but also offers a superior vaping experience that can last you weeks.
What Sets the AirsPops ONE USE 12ml Mesh Apart?
The AirsPops ONE USE 12ml Mesh is a game-changer in the world of disposable vapes. Unlike its 3ml and 6ml counterparts, this device boasts a whopping 12ml e-liquid capacity, offering approximately 3200 puffs. This is four times the capacity of regular-sized disposables, making it a cost-effective choice for vapers.
The device is powered by a 600mAh battery and operates at a working voltage of 3.7V. It also features an automated draw sensor for a seamless vaping experience. The device uses a 1.0 Ohm coil from the EC/M Coil series, which is known for delivering rich and flavorful vapor.
One of the standout features of the AirsPops ONE USE 12ml Mesh is its USB-C charging port. Unlike the 3ml and 6ml versions, this device can be recharged, ensuring it maintains sufficient power to keep up with you, anytime, anywhere. You can use the device until the flavor tastes burnt.
Aesthetics and Feel
The AirsPops ONE USE 12ml Mesh is not just about performance; it also scores high on aesthetics and feel. The device features a matte finish that gives it a premium look and feel. It feels solid to hold in hand and can stand upright easily, making it convenient to use.
The mouthpiece of the device is designed for comfort, providing a perfect fit for a satisfying vaping experience. The USB-C charging port is located at the bottom of the device. There's also a small white light on the side of the bottom black piece. This light indicates when you're pulling (it turns on) and when your battery has run out (it flashes multiple times).
Flavors to Savor
The AirsPops ONE USE 12ml Mesh comes in a variety of tantalizing flavors. Here are some of the options available:
You can take a deep dive into each flavour on our blog of AirsPops ONE USE 12ml Disposable Flavours in our AirsPops Airscream Vape Flavour Guides along with every our AirsPops Airscream product.
Charging Time for AirsPops ONE USE 12ml Mesh Rechargeable Disposable Vape
The AirsPops ONE USE vape comes with a 600 mAh battery. Charging time can vary depending on the power source you use. Here's how to calculate it:
Formula: Charging Time (hours) = Battery Capacity (mAh) / Charging Current (mA)
Charging Options and Recommended Times
| Charging Source | Current (Amps) | Current (Milliamps) | Calculated Charging Time |
| --- | --- | --- | --- |
| Computer/Laptop Port | 0.5 A | 500 mA | 75 minutes |
| Standard 1A Charging Brick | 1 A | 1000 mA | 35 minutes |
| Standard 2A Charging Brick | 2 A | 2000 mA | 20 minutes |
After you have finished charging the device, let it sit for 5 minutes so that the coil cools down. The heat transfers to the coil when the battery is charging. If you pull on the vape too early, it will cause the coil to burn, resulting in a burnt-tasting flavor that you can't fix.
In conclusion, the AirsPops ONE USE 12ml Mesh is a versatile and high-performing disposable vape that offers a superior vaping experience. Whether you're a seasoned vaper or a beginner, this device is sure to meet and exceed your vaping expectations.
---