How to Get the Most Out of Your AirsPops ONE USE Disposable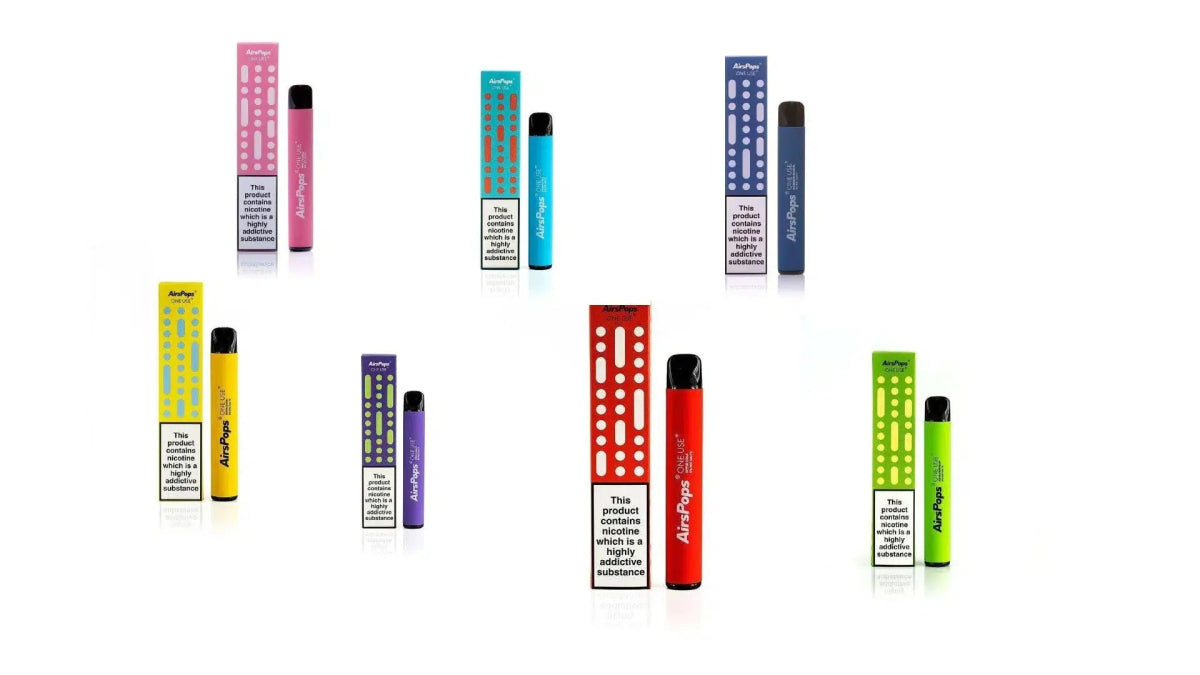 Vaping has become a popular alternative to traditional smoking, and the AirsPops ONE USE Disposable from Airscream is leading the charge. With its ease of use and a variety of flavors, it's no wonder that it's a hit among vapers. But how can you ensure you're getting the most out of your AirsPops ONE USE Disposable? Here are some tips.
Understand Your Device
The AirsPops ONE USE Disposable is a user-friendly device designed for convenience. It comes pre-filled with e-liquid and is fully charged out of the box. This means you can start vaping as soon as you open the package. Understanding how your device works can help you use it more effectively.
There are three different types of AirsPops ONE USE Disposables available:
AirsPops ONE USE 3ml: This compact device offers approximately 800 puffs and comes in a variety of flavors. It's perfect for vapers who prefer a smaller, more portable device.

AirsPops ONE USE 6ml: With double the e-liquid capacity of the 3ml version, this device offers approximately 1600 puffs. It's ideal for vapers who want a longer-lasting disposable device.

Rechargeable AirsPops ONE USE 3200 Puffs 12ml Mesh: This rechargeable device offers the most puffs and the largest e-liquid capacity. It features a mesh coil for enhanced flavor and can be used until the flavor tastes burnt.
Each of these has a different e-liquid capacity and puff count, so choose the one that best suits your vaping habits.
Choose the Right Flavor and Nicotine Strength
The AirsPops ONE USE Disposable comes in a variety of flavors and two different nicotine strengths (3.6% and 5%). Choosing the right flavor and nicotine strength can significantly enhance your vaping experience. Experiment with different flavors to find your favorite.
Proper Puffing Technique
The way you puff on your device can affect your vaping experience. Take slow, steady draws instead of quick, sharp puffs. This allows the coil to heat the e-liquid properly, creating a satisfying vapor and preventing the device from overheating.
Store Your Device Properly
To maintain the quality of your device, store it in a cool, dry place away from direct sunlight. Extreme temperatures can affect the battery life and the quality of the e-liquid.
Know When to Replace Your Device
For the non-rechargeable devices (3ml and 6ml), use the device until the blue light at the bottom flashes continuously, indicating it's time to replace your device. For the rechargeable 12ml device, use it until the flavor tastes burnt.
Customer Reviews
Don't just take our word for it. Many customers have shared their positive experiences with the AirsPops ONE USE Disposable. Johan praised the device for its easy use and convenient packaging. Reaoleboga Mompati highlighted its great quality and affordability, saying they would definitely buy it again. Rachel Tapson loved the flavor but wished it lasted longer.
With these tips, you can maximize your vaping experience with the AirsPops ONE USE Disposable. Happy vaping!
Discover every flavour for each AirsPops ONE USE Disposable
We've taken a deep dive into the flavours available in AirsPops ONE USE 3ml, AirsPops ONE USE 6ml Mesh, and the AirsPops ONE USE Rechargeable 12ml Mesh ranging from Fruity, Menthol, Exotic, and Tobacco to find your perfect match.
Find them along with a complete guide on every AirsPops Airscream Flavour product in our AirsPops Airscream Vape Product Guide.
---