Airscream 1 & 7 Device Manual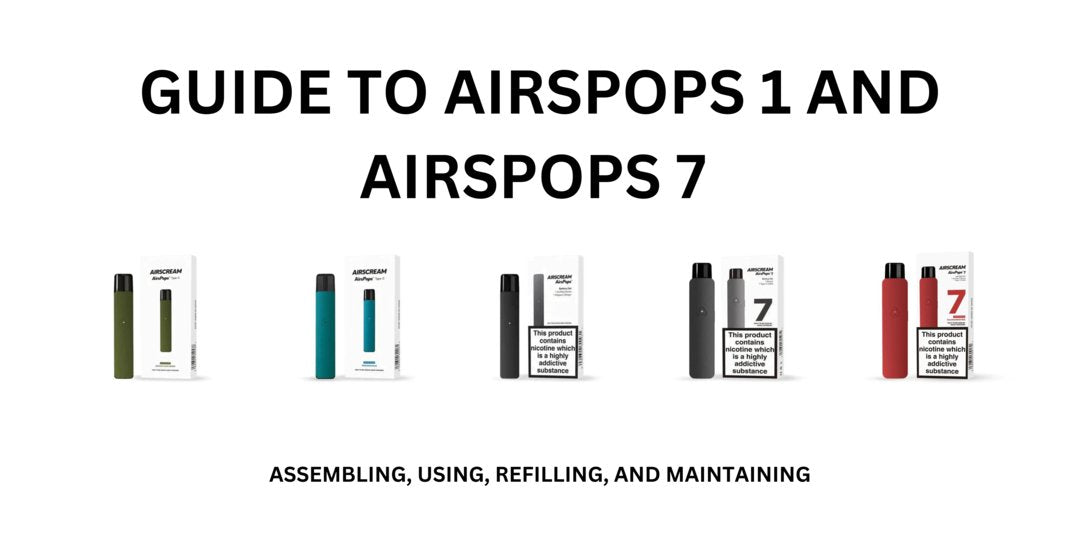 How to Use Your Airscream 1 & 7 Device
Congratulations on your purchase of an Airscream 1 or Airscream 7 device! This device will allow you to enjoy a smooth, flavorful smoking experience with the convenience of a disposable device. In this blog post, we'll cover how to switch your AirsPops device on, how to use it, how to refill it, and the best practices to maintain your device for prolonged use.
Your Airscream 1 or Airscream 7 package will include the device itself and a USB-C cable for charging.
Switching Your Airscream 1 and Airscream 7 Device On
Switching your Airscream 1 or 7 device on is easy. To start, make sure that your device is fully charged. To charge your device, use the USB-C charging cable that was included with your purchase. Once your device is fully charged, press the power button five times quickly. The LED light will turn on to indicate that your device is now on.
Using Your Airscream Device
Once your device is switched on, you're ready to start using it. To begin, take a slow, steady draw on the device, inhaling the vapor. After a few seconds, you should be able to feel the effects of the vapor.
When you're finished using your device, press the power button five times quickly to turn it off.
Refilling Your Airscream Device
Your AirsPops device uses refillable pods and pre-filled pods.
If you're using refillable pods, you'll need to refill the pod with your e-liquid of choice when it is running low. To do this, simply
pull out the empty pod from the device,
open the rubber lid,
squeeze your preferred e-liquid in (we'd recommend the 313 AirsPops E-Liquid),
seal the rubber lid,
and push the refilled pod back into the device.
You should hear a light click which indicates its secured.
If your pod is correctly inserted, the white light should flash once or twice on the device. If a red light flashes, the pod hasn't made a solid connection. You can remove the pod and re-insert it. If that doesn't help, clean the magnetic connectors on the pod and the device with a cloth and re-insert it.
You can also opt for pre-filled pods, which are available from The Smoke Organic Store. These pods come with a ready-to-go vape liquid from AirsPops Airscream and can be used the same way as refillable pods. Pre-filled pods are easy to use and more convenient than refillable pods, since they can be quickly replaced when they run out of liquid.
Maintaining Your AirsPops Device
The AirsPops device is designed for long-term use, so it's important to take proper care of it. Here are a few tips to keep your device in top condition:
Make sure to keep your device clean. Wipe it down regularly with a damp cloth.
Keep your device away from direct sunlight and extreme temperatures.
Don't expose your device to water or any other liquids.
Don't drop or damage your device.
Make sure to regularly check your device for any potential damage or wear and tear.
Avoid using harsh cleaning materials or detergents to clean your device.
Handle your device with care and avoid dropping it, as this may cause serious damage to the device.
By following these tips, you can ensure that your AirsPops device will last for a long time.
We hope this blog post has helped you learn how to use, refill, and maintain your Airscream 1 or Airscream 7 device.
Thanks for choosing Smoke Organic Store!
Do you have more questions? Leave a comment below and we'll be sure to get back to you!
---
2 comments
---
---